Are you one of the intrepid Tottenham Hotspur fans who travel to the Brewhouse every weekend to watch the team battle in the EPL? Then you're bound to enjoy the news that hit today regarding the Atlanta Major League Soccer team that's coming in 2017.
Darren Eales, who currently serves as executive director of football administration at Tottenham Hotspur since 2010, is now to be at the helm of the upcoming Atlanta team. While there is no start date set in stone yet, no doubt he'll be heading over the pond soon to get things rolling.
This announcement is sure to excite not only fans of Tottenham but of soccer fans in general. It shows that Arthur Blank and his team are doing their due diligence and hiring people who have proven records of success and care about the sport. Any doubt that the team will be second-fiddle to the Falcons is surely fading away.
"Soccer is a lifetime passion of mine, and to have the chance to come to Atlanta and build a club from the ground up is extremely exciting," Eales said in the official announcement. "I'm going to have the rare experience of getting to know the fans from the outset, and I'm eager to engage them in the process, from naming the team to creating an incredible atmosphere at our matches."
You'll notice Eales mentions that part of the fan interaction is naming the team. The team plans to make every part of Atlanta MLS fan-influenced, including the name and logo. In fact, fan interaction is arguably growing the team more than anything else, as simple word of mouth has already lead to roughly 15,000 seats reserved and no signs of slowing down.
Points of Contention?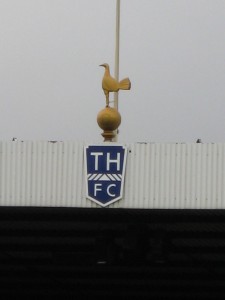 Of course not everything can be sun and roses with this latest news. Consider this: you're an Arsenal fan who wants to support the new Atlanta MLS team. Today you wake up and see the announcement that someone from your hated EPL rival, the Spurs, leads the team. What do you do?
This is something that comes up every time a big hiring like this happens. On a bigger scale it's like what happened to the Chivas USA debacle. While fans of Chivas Guadalajara were fine with the affiliation, any other Liga MX fans would hesitate to watch a game, especially if they're fans of Atlas or Club America. It remains to be seen if the same fate awaits NYCFC, one of the two new MLS teams kicking off next year. They have an affiliation with Manchester City which could chase off fans of other EPL teams, especially Manchester United.
However none of this has come to pass yet. More than likely the rabid fanbase that exists in Atlanta will overlook anything short of an official sponsorship from a certain team and be there from opening day on. Whatever the case, the next few years leading up to first kick will be very interesting indeed.